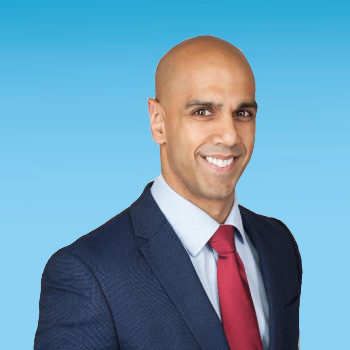 Dr Amit Atrey MD, MSc., MRCS, FRCS
(Tr & Orth)
Hip and Knee Joint Replacement Surgeon
St Michael's Hospital, Toronto
Assistant Professor
University of Toronto
Dr Atrey is an orthopaedic surgeon specialising in minimally invasive hip surgery and knee surgery.
He is experienced in both first time and redo (revision) hip and knee surgery.

History
Dr Atrey grew up in the North of England and moved to London, UK, for his medical school education.
He graduated in 2000 and did his junior jobs, Master's program and also residency in and around the London area.
He passed his FRCS in 2011 and qualified as an independent orthopaedic surgeon in 2012.

Fellowships
A fellowship is a period of specialist training after the doctor has finished their general orthopaedic training.
Hip and Knee replacement fellowship
St Michael's Hospital: Toronto
Dr Atrey trained under the care of Drs Waddell and Schemitsch. He first came to Toronto in 2012.
During this time, he was involved in over 700 cases. These were both primary and revision surgery.
DePuy arthroplasty fellowship: Warwick UK
It was here that Amit learned to do his Minimally Invasive Hip surgery and how to deal with major redo hips and knees.
Trauma Fellowship
UKE hospital, Hamburg, Germany
This was a period where Dr Atrey learned to deal with major trauma from Prof. Johannes Rueger.
After training
After his fellowships, he became a consultant in the UK with a specialist interest in minimally invasive hip and knee replacement.
Amit has always missed Toronto and was glad to come back to an academic role in University life.
In 2016, he was offered the position of Staff Orthopaedic at St Michael's and Assistant Professor of Orthopaedics at the University of Toronto

Current Practice
Minimally Invasive Hip Replacements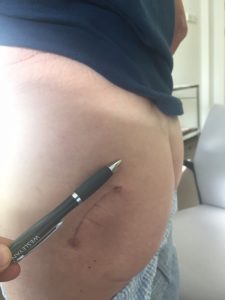 He now uses a posterior approach and a mini incision. The incision is typically under 3 inches in length.
He believes a small incision heals better, has less wound issues and hurts less.
A posterior approach does not cut any muscle. The tendons on the back of the hip are released and then reattached at the end of the operation.
The posterior approach doesn't leave any change to your walking gait as none of the muscles are cut.
Attached is a form for you about hip replacements and minimally invasive hip replacements.
The day after the operation: My patients often tell me that their hip feels like they've been kicked.
The hip arthritis pain is usually gone and the "bruised/ kicked" feeling is on the side of the leg. You will also feel stiffness that goes immediately after you start moving.
This pain gets better by half every day. You will be encouraged to go home from the hospital within a day or two after the operation.
The pain will usually be all gone after 2 to 6 weeks and you should be back to normal within 2 months.
I have no restrictions in your movements or the way you sit or sleep after the operation. You just need to just take it easy for a month or so and recover at leisure.
You should also be aware that you may experience foot and leg swelling for a few months after the operation. This is normal swelling going down with gravity.
Knee replacements
A knee replacement is an operation to reduce your knee pain.
An incision is made in the middle of the knee (over your knee cap) and the bones of the knee are resurfaced with metal and plastic.
We offer a rapid recovery at St Michael's.
This means we use a spinal anaesthetic (you have an injection in the back which makes you numb from the belly button downwards). You will doze through the operation, but won't have a general anaesthetic (which can make you sick). We will infiltrate the knee with local anaesthetic to help with pain management for the first 12 hours after the operation.
You will also be asked to dress the first day after the operation and get moving, walking and putting all your wait through.
You will leave the hospital in a couple of days.
This is a painful operation and you must be willing to put the effort in to gain maximum results. If you don't work really hard and get physiotherapy help to keep flexing and straightening the leg out, you could have long term stiffness and pain.
You must retrain your brain to realise that moving your knee won't cause any harm to your knee despite the pain. In fact the opposite is true.
I have attached an information form on knee replacements on the side

Research
Dr Atrey holds the post of assistant professor of orthopaedics at the University of Toronto.
He has an interest in making the hip and knee replacements last as long as possible and specifically in the way the implants rub against each other (tribology).
He gained his Masters from Imperial College, London in 2006.
He is well published and a link to some of his publications are available on this link.

Making A Referral To See Dr Atrey
If you are patient with arthritis or a hip/ knee replacement that is painful, you must ask your family doctor to refer you Dr Atrey's office.
You can use the referral form attached on the link.
This referral form can be faxed to office

Dr Atrey's Office
55 Queen St East,
Suite 804
Toronto, ON,
M5C 1R6
Tel: (416)864-5342
Fax: (416)864- 5398
Admin Assistant: Ms Ann Quilloy
Email address:  cheann.quilloy@unityhealth.to
We gratefully acknowledge the generous provision of funding support for the St. Michael's Hospital Arthroplasty Fellowship from the OMeGA Medical Grants Association, DePuySynthes, Zimmer Biomet, Stryker, and Smith and Nephew.